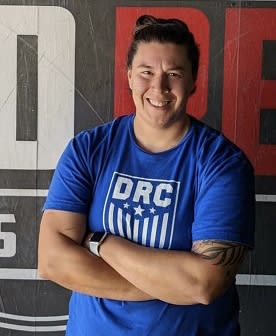 JESS CORTEZ
BS, CF-L2
Jess is a CF-L2 Performance Coach at The DRC.
Jess grew up playing all types of sports and was a three sport athlete in high school, participating in Cross Country, Basketball, and Track and Field. She continued her track career at Western Illinois University (Division 1) where she threw the shot put, discus, and hammer. After college and competing for all those years, she felt like something was missing in her life. She tried out some triathlons, long distance running, and just lifting at big box gyms, but nothing really excited her. Then she found CrossFit and her life was forever changed. A year later, in 2016, she received her CrossFit Level 1 certificate and has been coaching ever since.

Jess is originally from Illinois and started coaching at CrossFit Crystal Lake. She then moved to Arizona in March of 2019 and continued her coaching career. Aside from coaching at the DRC, Jess is also an assistant coach for the badminton and track team at O'Connor High School. Jess is excited to get to know you and add value to you and the rest of our members at the DRC.