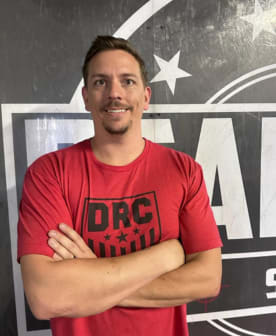 TAYLOR GALLIANO
BS, PTC
Taylor is the Fitness Director at Dead Red Conditioning. He manages our facility to ensure you have the best experience possible. He helps make sure all current and prospective members get taken care of. Taylor also works closely with Jeff and Julia to provide continual support and development for our coaches.
Taylor is originally from Orange County, California. He and his wife, Kayla, have son, Jace. He played volleyball growing up and competed on the 18U USA men's team in high school. He played at Irvine Valley College and went on to play at Grand Canyon University. He has a bachelor's degree in exercise science, with an emphasis in health education.
Taylor has worked in the fitness and sport industry since 2013. He started as a personal trainer at YouFit Health Clubs where he earned an expert rating as a trainer. Eventually he worked his way up to becoming the fitness manager. Taylor had a brief stint back in his hometown where he was a trainer at Athletic Republic. There he also developed the strength and conditioning program for a nationally ranked volleyball club. He has also spent time as a PT tech at Foothills Physical Therapy.
Taylor is passionate about helping individuals, from all walks, improve the quality of their lives. He's committed to meeting people where they are at and helping them reach their goals.